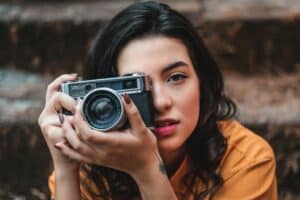 If you are a beginner to photography, you might have heard the term "digital photography" – but what does it actually mean, and how is it different from just regular photography? You might think these two terms are interchangeable, but they are actually a bit different.
As a digital photographer, Leah Honeycutt is constantly exploring her style in the medium and is looking to master portrait photography and digital photo editing. Today she explains the difference between photography and digital photography.
Pretty much everyone is familiar with digital photography these days because most of us use it! Have you ever taken a picture with your smartphone? If you have, you have used digital photography. 
People haven't always used digital photography, however. Traditional cameras used film to take pictures, which take much more time to process. These days, we can see how a photograph turned out instantly, but it wasn't always that way. Even though digital photography is much easier and cheaper to make and edit, film photography can still be really fun to experiment with. Who doesn't love the tactile feeling of a polaroid print, after all?